New Feature
Go-Insur integrates with HubSpot
Market-leading CRM solution Hubspot is now integrated with Go-Insur, Pancentric's cloud-based digital insurance platform.

Simon Fenn, Director at Pancentric Digital, says
"As more players in the market look to digitise and scale existing insurance products, explore new schemes and improve customer servicing and nurture, it's key that smart policy management is married with equally smart customer management. 
Most Customer Relationship Management (CRM) systems are complicated, and using them often requires time-consuming effort by internal teams. Hubspot is easy-to-use and delivers good returns quickly. When integrated with a cloud-based policy management platform like Go-Insur - with automated exchange of data - companies can start to realise huge efficiencies and unlock untapped potential.
For those new to CRM, typical benefits include:
Better contact data organisation;

Sales reporting;

Sales forecasting;

Customer segmentation;

Scaling a sales process.
If you're currently exploring cloud solutions for policy management and are conscious of wider issues with your customer management (data in multiple places, spreadsheets, inefficient methods), get in touch and our team can organise a demo of the Hubspot-Go-Insur integration.
The Hubspot integration is the latest in a range of service integrations for Go-Insur. Go-Insur's broader capabilities and integrations are shown below.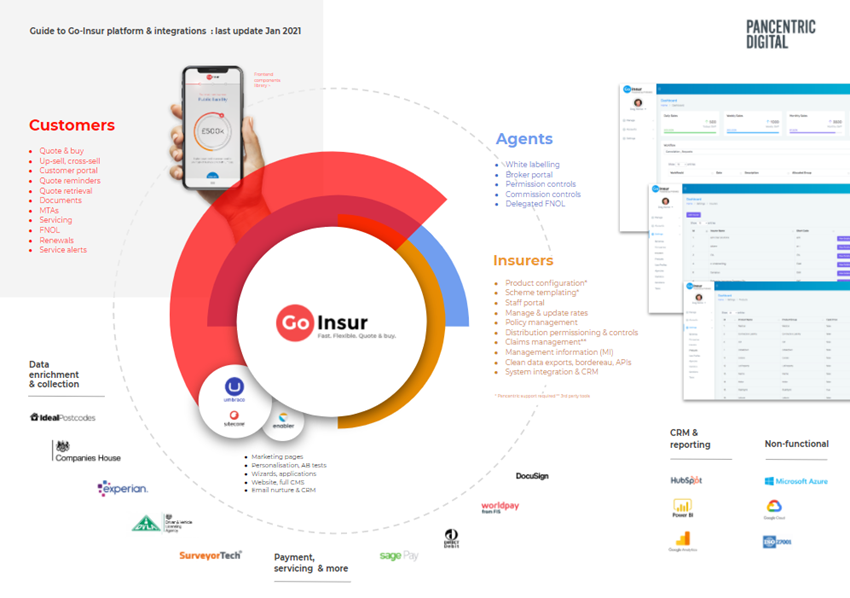 Pancentric's insurtech solution Go-Insur has officially joined the MGAA club - that's the Managing General Agents Association

The digital-first start-up has chosen Go-Insur as its platform with an initial focus on unoccupied home insurance.

London-based specialist MGA Lares has launched a new Unoccupied household product this month using the Go-Insur platform.