DISCOVERY SERVICE
Usability benchmarking
Optimise your user experience
Score and compare the usability of your digital journeys
Rank the usability of your transactional and service journeys, and see a benchmark comparison against your competitors with Pancentric's specialist Usability Scoring System.
Gain the competitive edge
An independent measure of usability
Whether you create your journey designs internally or with partners, our 60-point usability test provides you with a valuable independent assessment of the strengths and weaknesses of your digital journeys, and how they compare with competitor propositions in your market space. Tests can be undertaken for both live and prototype journeys.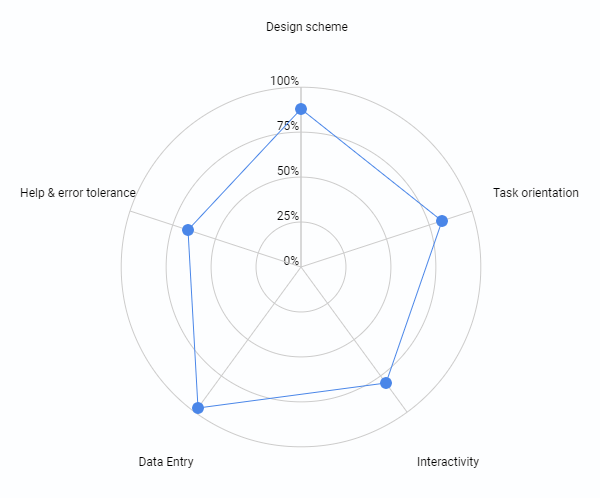 Pancentric's Usability Scoring System has been developed over years of consultancy engagements and across a wide range of sectors and digital settings. From mid-2022, a version of the same scoring system is being featured on the DigitalBar insurance benchmarking platform - a joint initiative with FinTech consulting firm Altus. 
Delivering Valuable Insights
How the Usability Scoring System works
The Scoring System covers 5 key usability categories:
Design scheme
Core integrity of the design system
Task orientation
Logic, layout, status information

Interactivity
Helpfulness of the site behaviour

Data entry
Ease, accuracy and efficiency of journeys.

Help & error tolerance
Wider support & tolerances of the experience
Each category contains 10-15 distinct usability questions with each question rated on a 1-5 scale.
Each Category score represents a percentage of the maximum achievable score and the total score represents the average score of all 5 categories. Categories carry different weightings which can change periodically as new usability conventions emerge and older conventions commoditise.
Scores are presented in tabular and radar chart form and can be supported with helpful advice and commentaries from Pancentric's Senior Usability Consultants.
Continually Optimising
Benefits of Usability Tests
Validates your design scheme
A good usability score will build confidence in the design direction of your digital journeys.
Fresh prespective
Design teams get a robust, independent view on a new or current digital design approach.
Guides future focus
Comprehensive ranking across key usability criteria & specialist advice help identify where to focus future efforts.
Gain a competitive edge
Competitor benchmarking identifies where you have an advantage and where you need to improve
Fees and timing
Usability test fees are from £750 per brand (scores only) or £1,500 per brand (scores & directional commentary). Delivery times are typically 1-2 weeks, again subject to scope.
Explore our digital transformation services