Insurtech software
Start-up Insuristic chooses Go-Insur for UK launch
This April 2022 sees the UK launch of direct insurer Insuristic. The digital-first start-up has chosen Go-Insur as its platform with an initial focus on unoccupied home insurance extending to other products over the coming months.

Founder Rob Faulkner brings 20 plus years' experience to the Insuristic start-up, previously at Aviva, Brit, Towergate, Thistle and Allianz in a range of roles including sales, marketing and product development.
Rob Faulkner is no stranger to the digital insurance space with time heading up Personal Lines Insurer Relations at OpenGI and the driving force behind Insurtech solution SurveyorTech.
Says Rob Faulkner, "Go-Insur has been the platform to watch over the last 2 years with impressive progress on their core feature set, excellent flexibility to support proposition development and a strategic focus on customer experience. They talk the language of entrepreneurs, add value to the commercial thinking and then crack on and deliver. It's a potent and appealing partnership for ambitious start-ups and scale-ups."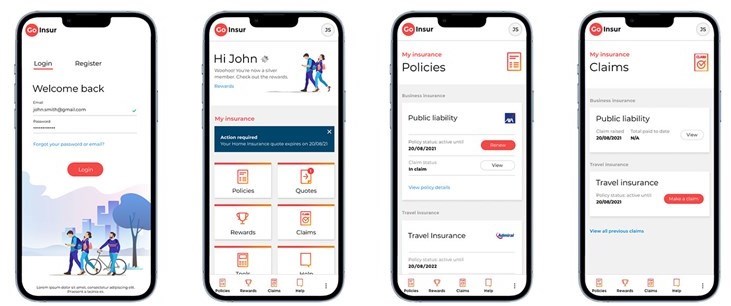 Continues Rob, "While our first priority is distribution and establishing volume, within 12 months we will be building out our service offer using Go-Insur's customer portal capabilities." [Go-Insur's new customer portal feature is pictured above].
Says Simon Fenn, Director at Pancentric Digital, owners of the Go-Insur solution, "It's great to see more start-ups partnering with Go-Insur. Insuristic has big sales and servicing ambitions so we're excited to apply Go-Insur's expanding life-cycle capabilities."

Pancentric's insurtech solution Go-Insur has officially joined the MGAA club - that's the Managing General Agents Association

London-based specialist MGA Lares has launched a new Unoccupied household product this month using the Go-Insur platform.

Just released is our latest update to our Usability Scoring System, specifically designed for transactional and servicing journeys.