Our 7 Point Checklist
Is your website platform fit for purpose?
If you're growing or restructuring your business, or perhaps engaged in mergers and acquisitions, it's worth checking your web arrangements are fit for purpose.
Here's our seven point checklist, so see how does your digital estate shapes up...

1. Scalability.
If you're a growing organisation, your best bet is to go for an easily scalable CMS solution like Umbraco. Platforms like WordPress are fine for one-off, small scale websites, but they lack the smart functionality needed for most growing businesses that have complex requirements, such as multi-site, multi-lingual, etc.

2. Customer experience & marketing.
If you already have a bells & whistles Digital Experience Platform (DXP) or you're considering one, check you have the resources to support it and that it fits your business model. Otherwise think again.  Complex DXP's like Sitecore may seem to deliver fantastic customer experiences at first, but soon your marketing team may be drowning in the DXP's complexity, never fully utilising the available features and wasting time creating and managing content in your ever-evolving digital estate.  If this is you - perhaps now's the time to switch to a more time-efficient CMS that still delivers great customer experience functionality.

3. Value for money.
Competition is high among platform vendors so keep evaluating licence fees and wider running costs versus the return on investment you're actually achieving.  If you're paying through the nose for a system that's over-specified for your needs and you're unlikely to fully harness its features, then you're likely wasting your money and should explore other options.  Migrating to a new CMS might sound like a time consuming and difficult process, but it could actually be more cost-effective in the long run.
4. IT controls & efficiencies.
Lots of websites on different platforms can become a real headache for your IT team.  You may want to rein it in and go for a single platform which will enable you to easily manage your entire digital estate.  Multi-site CMS' are the future.
5. Cyber security.
Protecting yourself online is more important than ever. Having a secure web platform is crucial - likewise plugins, infrastructure, and development partners.
6. Usability.
There may be rumblings in your team about ease of use. The more complex the system the more time-consuming and frustrating it can be to use, and the more likely you're not going to fully utilise a platform's feature-set.  Switching to a CMS with greater usability could actually help your team maximise efficiency and boss your content management - leaving more time to explore and utilise the features your CMS has to offer.
7. Front-end design.
This shouldn't be confusing with any platform.  The slicker your front-end design, the slicker your customer experience, and better user journeys are more likely to encourage more leads via your site.  So its a no-brainer to ensure your DXP or CMS platform enables you to easily create and manage a great front-end UX design.
Now to explore these seven points in more detail...
Scalability
There are lots of brochureware web tools out there. The well-known WordPress solution has been around for years and now competes with solutions like Wix and Squarespace. Loved by freelancers, micro-businesses, and some larger corporates, these tools are great for one-off sites but if you have complex digital plans, think before going down this route.
Multiple websites on your roadmap?
Expanding to other territories and planning on country-specific web content?
Potential multi-lingual requirements?
Whitelabel or portal requirements for agents, resellers, partners?
System integrations with CRM or back-office solutions?
Big ambitions but limited resources?
If it's 'yes' or 'maybe' to any of these, go for a scalable CMS platform. Solutions like Umbraco give you the best of all worlds; you benefit from an easy-to-use templated CMS like WordPress but with the added benefit of an enterprise-strength group digital solution that can grow as your needs become complex.
Value for money
Take a fresh look at your spend on licence fees if you've been with a vendor for a while. Some DXP vendors, i.e. Sitecore, have got increasingly bullish in recent years, restructuring their pricing as they push upgrades and stop supporting old versions. 
If you're spending 5 or 6 figures on licence fees and not generating a definable ROI, you need to either make fuller use of the system - get more bang for your buck - or consider re-platforming.
Re-platforming in the right hands is easier and cheaper than you might think, and enterprise-strength platforms like Umbraco are open-source so the money you save on licence fees can be banked or redirected to other priorities.
Related checks worth doing: When you're considering a new solution, check what version you will be on. Major releases normally come along every 3 years or so - you don't want to be landed with upgrade costs early into your contract. If you're already in a contract, ask your legal team to check exit options and penalties. Worth being prepared.
IT controls & efficiencies - (consolidation)
If you're a large enterprise, it's likely you are running multiple websites, each potentially requiring a separate IT infrastructure and support & maintenance contracts. In worst-case scenarios, this can be challenging and inefficient to manage, with security blindspots, compromising vulnerabilities, not to mention escalating IT costs.
If this is you, it could be time to rein things in and consolidate to a single platform; a doable exercise with both operational and financial benefits, with migration phased over time.
The general idea is that all websites in your Group portfolio sit within a single CMS platform and draw from a shared library of customisable templates to align your Group's brand across multiple sites. Digital investment is pooled and all parties in the Group benefit. Brands wanting creative freedom can invest in templates and widgets exclusive to them, but these still benefit from centralised IT management & security.
If you're in the business of mergers & acquisitions, a single platform setup will support you in rapid onboarding and brand alignment of new businesses into your digital portfolio, as well as cleaner, faster decommissioning.
Discover how a Group Digital Solution can help you raise the bar on your digital estate.
Cyber security
Platforms like WordPress have a wide range of third-party plugins. However, in too many cases insufficient scrutiny is applied to these plugins, so adding them to your website can present risks. You could be wiring yourself into security problems.
And it's not just the platform and its plugins you need to consider.  It's also worth checking out the digital partners you employ. Do your partners follow cyber-safe software development practices? Are they ISO certified?  Ensuring the partners you work with are accredited and follow secure data and information security management is just as key to cyber security as having firewalls.
Usability
We all want our teams to work smarter, quicker and more efficiently. If your team is struggling with the usability of your CMS it could mean one or more of these things:
You have a complex system. Advanced DXPs have a plethora of admin controls, many obscure and hidden, which can make getting a simple page live tortuous. If the platform is delivering on a wider commercial front, you might just have to accept this reality.
Your team skipped the training. Most platforms provide good training courses, online and in-person. Get the team booked on some training. Essential for the enterprise DXPs.
Your team is busy and it's a complex system. You can train your team to the eyeballs, but if they're super busy as well as grappling with a non-intuitive system they'll never achieve fluency - they simply won't have the time to master it. Either get them more resources, create an expert/lead in the team or consider a simpler CMS solution.
Your team isn't computer savvy. Time to look at your recruitment policy(!)
At the end of the day, if your team is savvy, you need to ensure they have a platform that gives them the time and capabilities to fully utilise their 'savviness' in the most efficient way possible.  That translates to a CMS platform that boasts the usability and ease of management so your team can easily produce content that delivers results quicker.  So ditch the difficult platforms.
Front-end design
All websites get tired after a while and need a refresh. When the refresh moment comes, there can be an inclination to do a wholesale rip & replace i.e. replace the backend platform as well as redo the architecture and frontend design - but this isn't always necessary.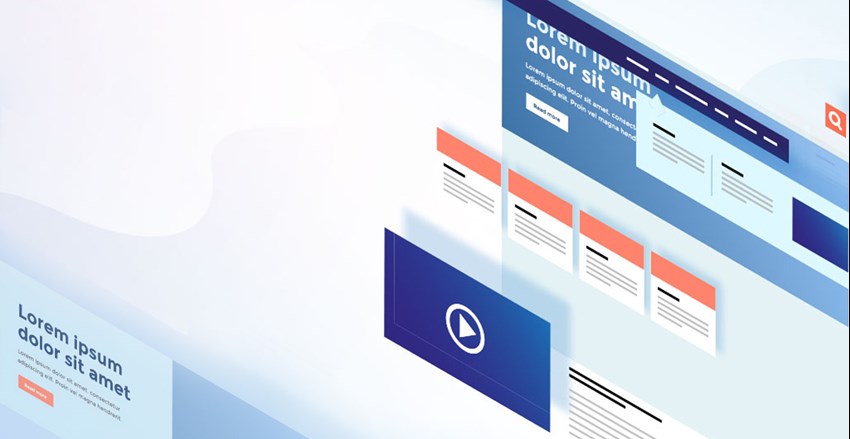 If you have something transformative in mind (e.g. a new online servicing approach), rip & replace might make sense. But if it's a freshen-up of the proposition and adding a new template or two, you can probably stick with your current platform and just redesign the UX and frontend. We'd recommend this if your team is happy and fluent in your current CMS and it's a relatively modern solution.
Checkout our Interface Toolkits for options on how you could revamp your frontend design.
---
For advice on re-platforming or frontend UX refreshes, we're here to help, so get in touch. 

Pancentric's insurtech solution Go-Insur has officially joined the MGAA club - that's the Managing General Agents Association

The digital-first start-up has chosen Go-Insur as its platform with an initial focus on unoccupied home insurance.

London-based specialist MGA Lares has launched a new Unoccupied household product this month using the Go-Insur platform.