Disruption doesn't have to be disruptive
Re-platforming your digital estate. The non-disruptive way to make things happen
According to Deloitte, 40% of CEOs say their CIO or tech leader will be the key driver of business strategy— more than the CFO, COO, and CMO combined.  It shows how strategy development has changed.
Boards now need to be tech-savvy and the smart money is on open, agile technical architectures with versatile tooling that can adapt and scale as strategies evolve and market forces dictate.

While digital brochureware and experience tech is a typically less onerous aspect of digital tooling, even here it's easy to get technically stymied with capability blockers and economic impacts - our checklist here.
Re-platforming: It can be a breeze.
Sometimes short-term operational disruption is a re-platforming concern and a reason not to do it. To live with compromises.
In the right hands, fear not.  Here at Pancentric, we've undertaken many a complex re-platforming exercise for corporates with multiple brands, global operations, multi-lingual considerations and CRM integrations.
Two pieces of good news.
1. Website re-platforming can be done in 2-4 months and, 2. for most of that time, your sales & marketing operations will be 'business-as-usual', with no disruption.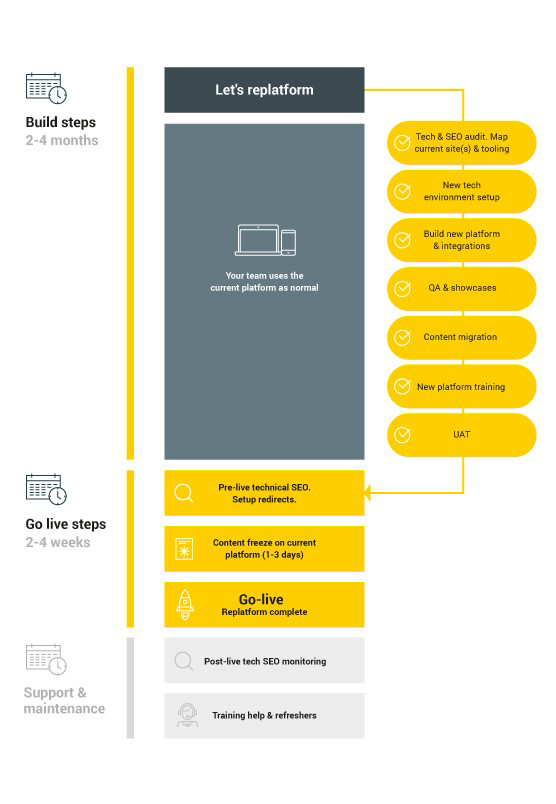 A preliminary audit and mapping exercise is key. This flushes out the scope and complexity, defines dependencies, integrations and informs the planning. From here, most of the heavy-lifting is done behind the scenes with periodic showcases and some light liaison with your IT team.
Your IT and marketing teams need to get involved in QA at the latter stages of the works to check key functions are working as intended.
Typically, we do teach the trainer type sessions supported by bespoke video tutorials to help extended teams understand how to undertake essential tasks on the system. These have proved invaluable.
Getting the go-live steps right is crucial. Expert technical SEO resources must be retained well ahead of any change. We partner to provide this. If your web estate is large, you'll also be faced with a significant volume of redirects so some tooling to take the heat out of this process is key.
If you have multiple sites, we recommend a phased roll-out with content freezes on the old site for a few days prior to going live. As soon as you're live, your marketing teams can immediately start updating content and the new 'business as usual' is mobilised.
Example of successful re-platforming case study for a global corporate.
---
Interested in re-platforming?
Whether you're a Sitecore user looking to replatform, or a large multi-site group organisation looking to replatform to a single CMS solution, we have the expertise and tools to help you realise your ambitions.

Pancentric's insurtech solution Go-Insur has officially joined the MGAA club - that's the Managing General Agents Association

The digital-first start-up has chosen Go-Insur as its platform with an initial focus on unoccupied home insurance.

London-based specialist MGA Lares has launched a new Unoccupied household product this month using the Go-Insur platform.